---
Appeals
McDorman & Kuszmaul LLC has a thriving appellate practice, having successfully briefed and argued cases to both state and federal appellate courts. Our attorneys have a thorough understanding of the rules of appellate practice and procedure and a talent for effective legal advocacy.
In an appeal, the party who has won at the trial court level often has the advantage. Therefore, our lawyers are frequently involved at the early stages of litigation to effectively brief and argue pre-trial motions. In other circumstances, we are asked to pursue or defend an appeal after another law firm has handled a case through disposition at the trial court level. Our firm can also assist you in assessing the practicalities of appeal, including the important question of whether to pursue an appeal at all.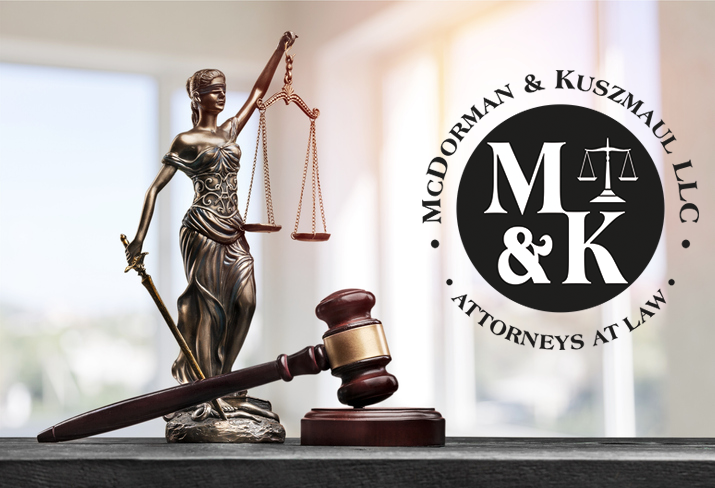 ---
Business Organization
Starting a business requires thorough planning. McDorman & Kuszmaul LLC will assist you in the selection and formation of legally appropriate business entities and business strategies best suited to achieve your goals. Once a proper business format is selected, we also take care to draft shareholder, partnership or operating agreements as part of the entity formation process to help make sure that your business is tailored to fit your specific needs. We offer services to draft, review, and negotiate contracts related to various business activities, including buy-sell agreements, lease agreements, service contracts, releases and waivers, property agreements, shareholder agreements, operating agreements and employment and consulting agreements.
---
Business & Commercial Litigation
The attorneys at McDorman & Kuszmaul LLC have decades of combined experience in business disputes in various industries and have represented some of the area's largest companies and governmental entities as well as small businesses and individuals. Our extensive trial and appellate experience gives us the ability to provide vigorous, practical and cost-effective representation for businesses of all types and sizes.
---
Civil Litigation
Civil cases are those which involve a dispute between two or more parties over compensation for some transgression that has occurred. If you believe that you are eligible for damages as a result of an injury or other wrong that you have suffered, our  lawyers may be able to help you.
The lawyers at the McDorman & Kuszmaul LLC have substantial experience in the fields of civil and business litigation. Our aggressive and knowledgeable attorneys are proud of their court record and are willing to go to trial if necessary, but will also advise you throughout negotiations and potential settlements should it be in your best interest. Our goal is to find the best way to pursue or defend your case after we have collected all of the facts and evidence and to provide you with an efficient, hassle-free resolution to your grievances.
---
Collections
Collecting what is owed to you can be a contentious issue for many individuals and businesses. Our attorneys are experienced in executing account collection plans to get you or your business paid what it is owed. McDorman & Kuszmaul LLC represents a large variety of creditors in securing their financial interests through account collections and are eager to help you as well.
---
Criminal Law
When you have been charged with a criminal offense, you need to immediately contact McDorman & Kuszmaul LLC, and speak to an experienced criminal defense attorney. Our attorneys will aggressively defend your case from the initial investigation throughout the proceedings.
Our practice serves clients charged or under investigation for the following criminal offenses:
Violent Crimes — We vigorously defend clients against charges of assault and battery, robbery, criminal threats, kidnapping, weapons offenses, vehicular manslaughter, murder, and capital murder.
Drug Offenses — We represent clients facing charges of drug possession, drug sales, trafficking or transporting drugs, manufacturing drugs, conspiracy to manufacture, conspiracy to transport, and conspiracy to sell. Many drug-related charges are federal offenses. We are prepared to protect your rights throughout every step of the process.
White Collar Crimes — We assist clients facing charges including grand theft, embezzlement, fraud, internet crimes, and tax-related criminal offenses.
DWI & BWI (driving while intoxicated and boating while intoxicated) — We conduct thorough and timely investigations into DWI charges, in court and before the Department of Revenue. We seek ways to assist clients to preserve their licenses, jobs, and reputations by examining all available options in lieu of jail time.
Traffic Violations — We represent clients charged with various vehicular crimes and traffic violations.
---
Divorce & Family Law
Family ties are the most private and enduring relationships in society. However, these relationships are rarely free from conflict. When domestic issues cannot be solved within the home, McDorman & Kuszmaul LLC seeks to provide you with a solution.
Divorce proceedings usually involve intense emotions, sometimes they also entail significant cost. The attorneys at McDorman & Kuszmaul LLC can work with you throughout your divorce to minimize the emotional strain and cost normally associated with these proceedings. We handle all forms of divorces from complex contested to uncontested cases.
For many, family law is thought to be synonymous with only divorce proceedings. In reality, divorce is just a small part. Family law covers a broad array of domestic issues, including premarital agreements, paternity and child custody and support issues.
When legal action is necessary to resolve these matters, it is essential that you entrust your most private matters with a compassionate and knowledgeable family law attorney. At McDorman & Kuszmaul LLC, our dedicated attorneys serve as listeners, confidants and advocates for you during these most difficult times.
---
Estate Planning and Trusts
A well-drafted estate plan can help ensure that your loved ones are cared for both personally and financially after your death. The experienced attorneys at McDorman & Kuszmaul LLC can assist you in planning for your estate by drafting trusts, wills, deeds, powers of attorney, and health care directives and can also provide strategic advice regarding special needs planning, probate avoidance, and asset protection.
---
Financial Institutions/Banking
The attorneys at McDorman & Kuszmaul LLC have represented both lenders and borrowers in virtually every aspect of the banking relationship including, but not limited to, asset-based lending, commercial lending, creditor's rights, loan enforcement, debt collection, real estate financing and secured transactions.
---
Mediation
Litigation is often a long, costly process. Many cases can be successfully resolved by an experienced mediator such as Michael L. McDorman. Mr. McDorman has approximately 5 years of experience acting as a mediator for domestic and civil cases. During that time, he has assisted other attorneys resolve nearly 50 contested cases. Additionally, all of the attorneys at McDorman & Kuszmaul LLC have experience in mediating cases on behalf of their clients and achieving desirable results without the need for litigation.
---
Personal Injury
When you suffer a personal injury, you may have physical injuries, financial detriment or endure a host of other setbacks caused by the accident. An attorney's role is to help you assert your rights to financial compensation and support for your recovery. The attorneys at McDorman & Kuszmaul LLC are experienced trial attorneys and personal injury advocates focused on your rights and interests and the rights and interest of your family.
---
Probate
Losing a loved one is a difficult, trying time which can be complicated further by the confusion of dealing with the decedent's property, assets and debts left behind. The attorneys at McDorman & Kuszmaul LLC are skilled in the area of probate practice and can carry that burden for you.
---
Real Estate
Buying or selling a home is often the most significant financial transaction that one makes in their lifetime. While this can be an exciting time, it can also be frustrating, overwhelming and more expensive than necessary without the proper legal guidance. Even if there are no obvious disagreements between the buyer and seller, it is advisable for each party to enter into real estate transactions with their own attorney who can help steer them away from common pitfalls and make the transaction an enjoyable experience.
At McDorman & Kuszmaul LLC, we are happy to bear that burden for you. We represent buyers, sellers and financial institutions in all stages of these transactions.
McDorman & Kuszmaul LLC also offers broad-based real estate legal advice and representation in a number of transactions, including: real estate sales, closings, construction contracts, leases, and mortgage-based financing.
In addition to real estate transactions, we assist clients with respect to various residential real estate issues, including: land use, easements, zoning, permit appeals, tax-free exchanges, foreclosures, easements, real estate tax protests, breach of contract, buyer-seller disputes, and landlord-tenant disputes.
We are also a full service commercial real estate law firm that can assist you with a wide range of real estate matters from the purchase of raw land to the sale of a developed property and everything in between. We can help you take your project from start to finish.
If you are considering buying, selling, leasing, or investing in commercial real estate property you should consult our firm to ensure that your transaction is structured in the most beneficial way. Our firm assists clients with the following commercial real estate issues: purchase and sale of real property, construction (new construction and renovation projects), financing, approvals, leases, mortgage issues, foreclosure and eminent domain matters, landlord/tenant matters, and entitlements.
---
Wrongful Death
The loss of a loved one can have a terrible impact on those left behind. At McDorman & Kuszmaul LLC, we understand this and seek to relieve you of any legal stress these times might bring so you can focus on the grieving process and healing. We have experience representing individuals who have lost loved ones and we will help you seek compensation for the wrongful death of someone close to you. We understand that you can never get back what was taken from you, but we will fight to ensure the responsible party pays for the damage they have caused.
We handle wrongful death cases, fatal personal injury accidents, deadly products liability cases, and situations of nursing home fatalities. If you have lost a loved one because someone else acted negligently, we can help you.